Side 4 Collective
Spearheaded by internationally renowned Irish drummer Dave Hingerty, Side 4 Collective brings an eclectic array of Irish and international artists together, combining their talents in an unusual way. Side 4 Collective turns the traditional blueprint of how a song is assembled on its head by inviting artists to sculpt a song from scratch upon Hingerty's pre-written melodic and primal drum patterns.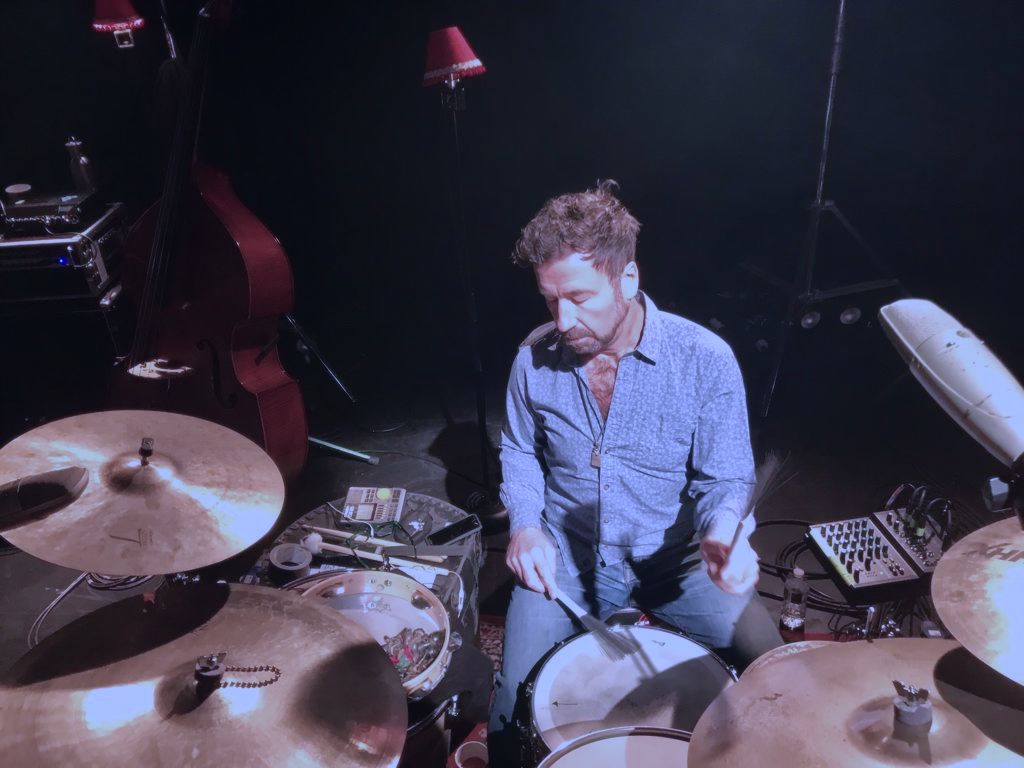 Dave recorded dozens of unusual drum patterns with the help of studio guru Anthony Gibney of Audioland Studios who was fresh from a stint in New York's Electric Lady Studios . They created a dynamic range of sounds on three rare vintage kits from the '50s, '60s and '70s and roughly chopped the beats up. Artists got a chance to experiment and record their uninhibited ideas to these beats. They were also invited to collaborate with each other and add ideas to each other's tracks. The Who's Pete Townsend described the process as "creative people 'throwing paint at the canvas' with a spirit of anarchy and 'first take' freshness."
"I'm so happy that this project has allowed me the chance to collaborate and connect with likeminded souls. I hope that the result brings someone joy," says Josh Ritter (Paste Magazine – 100 greatest living songwriters).
"I was very excited to be involved in this project. It's such an inspiring and creative way to make music," says renowned musician Ben Castle (Radiohead, Blur, Amy Winehouse). "Magical things can happen this way that would have been difficult for one person to dream up. The breadth of music that has been assembled for this project that just started with Dave's drums is astonishing. It's very easy to talk about recording projects, but it takes a lot to make a recording of this magnitude actually happen."
To date, Side 4 Collective has released collaborations with artists such as Josh Ritter (Desperate Days), Bell X1's Paul Noonan and Katy Perry's MD Adam Marcello (The Flood), Carol Keogh (Cold Front), Farah Elle (Sand and Sails), Aminah & Khan (Freedom Will Come) and Sarah Mc Quillan (Haokah) and Joe Chester (Battles).
We Burn Bright also features songs by Cathal Coughlan (Microdisney/Fatima Mansions) and ROMY (Paloma Faith), Ger Griffen (Rollerskate Skinny), Ben Castle, Adrian Crowley, Brian Crosby with words by Sir Ken Robinson, Temperance Cruise (John Donnelly), and Superelectric.
Additional instruments by some of Ireland's top musicians including Robbie Malone (David Gray), Naimee Coleman, Clive Barnes, Cian Boylan, Miriam Ingram, Paul Bushnell, David Oldham, Vincent Sipprell, Colm Querney, Sister Manu, and Conor Brady.
"There is a lack of freedom in mainstream music today, a lack of experimentation," says Dave Hingerty. "I am aware that my peers feel a pressure to be commercial and I wanted to encourage them away from this. I wanted to provide a rough canvas for them to go wild upon. I have often been given a song in sessions with just the drums to be added, so I wanted to reverse this, start with a drum pattern, but keep it interactive all the way to the end mix."
In turn others then could, and often did, add to those layered ideas, creating 'blind faith' music, where the artists had not even met before, but were often layering ideas on top of others.
Joe Chester "I was really happy when Dave Hingerty approached me about the Side 4 Collective, such a 21st century concept. A massive tip of the hat must go to Sarah, whom I've never met, for turning in such a powerful vocal performance."
They all seemed to sing or play to the 'key' of the drums. The lyrics seem to follow a theme throughout, a sort of life cycle, and they touch on the type of neuroses people have concerning difficult relationships, social and emotional disconnection, and self-destruction, but also romantic hope, strong determination and a celebration of life, all capturing the zeitgeist in the world today.
The album name, We Burn Bright, is a statement of defiance; despite all the difficulties we face in life, we must stay positive. The original cover photo is a metaphor to encourage a freedom of expression, and a letting go. It's a state of being, between places of security and the unknown, between terra firma, and the deeper mysterious depths. And the fleetingness of life.